The world's now tallest and largest observation wheel, Ain Dubai, has started turning in Dubai on October 21st and so joins Dubai's list of record-breaking tourist attractions. Here we discuss the ain Dubai wheel facts.
Ain Dubai is twice the height of the London Eye offering visitors stunning views of majestic Dubai from a height of 250 meters.
The Dubai Eye Wheel located at Blue Waters Island is the latest landmark to join Dubai's other world record-breaking attractions.
Here are some more fascinating facts about Ain Dubai you may not know:
Fact #1: From dining in the sky to corporate event offerings, the Ain Dubai brings customizable experiences to Dubai's unique skyline with international support.
It took a global effort to complete the Ain Dubai project with over 10 countries joining forces to create the Ain Dubai, the largest Ferris Wheel to date. The steel wheel structure was produced across the UAE, Germany, and South Korea. Along with this, the UK, Netherlands, and France provided the key engineering as well as project management expertise.
Fact #2: Ain Dubai tickets are now available for 1700 adults as well as for children passengers aged between 3 to 12 years.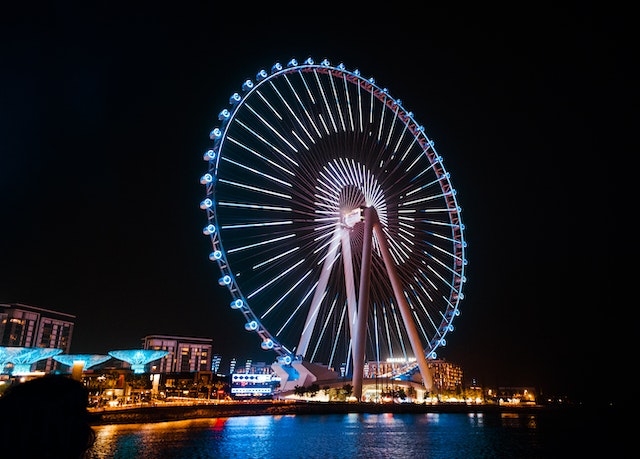 The Dubai eye wheel has a capacity for over 1700 passengers, which can board one of 48 luxurious cabins, and each cabin is capable to carry up to 40 guests. So, at one time, there will be more than 1700 people on the wheel. Alongside general Ain Dubai tickets, there is also an array of 'social experience' tickets. With the help of an Ain Dubai Lounge Plus Package, guests are allowed to enjoy premium check-in. There is also an option of house beverages in the lounge. The Ain Dubai Vibes Plus Package is only reserved for over 21s.
Fact #3: Ain Dubai offers surprising experiences with a rotation of 38 minutes, two rotations of nearly 76 minutes.
On a 360-degree rotation, it's fascinating to know that Ain Dubai soaks up panoramic city views along with the spin taking just under 40 minutes, allowing passengers enough time to enjoy the spectacular views. The tickets are available daily from 12 pm to 10 pm. Day and night-time slots are available. The guests will be able to marvel at the breath-taking cityscape. However, guests are advised to arrive between 30 to 60 minutes before their allocated slot.
Fact #4: Unique celebration packages are available for birthdays, engagements as well as weddings, and business functions.
Visitors can book an entire cabin for a special occasion if they are looking for a jaw-dropping backdrop for their own or someone else's birthday, business event, anniversary, or wedding. Ain Dubai capsules/cabins are also available for private hire to cater to anything from watching the stunning sunset to dining in the sky. Along with this, the private cabins are significantly customizable to cater to all types of events.
Fact #5: It has been in the making for 8 years.
The construction of Ain Dubai was announced in February 2013. The soon-to-be tallest and largest Ferris wheel welcomed its first guests on October 21, 2021, which coincided with the delayed Expo 2020, making it another amazing attraction at Blue Waters Island.
Fact #6: Almost twice the height of the London Eye at 250 meters.
With the arrival of the Dubai Eye Wheel, the London Eye Wheel with a height of 135 meters is moved into fifth place on the list of the world's largest as well as tallest observation wheels. Currently, the tallest observation wheels are the High Roller standing at a height of 167.5 meters, the Singapore Flyer with a height of 165 meters, and China's Star of Nanchang with 160 meters tall.
Fact #7: Money talks
The whole project of the Ain Dubai cost around USD$1.6 billion.
Fact #8: Steel of Ain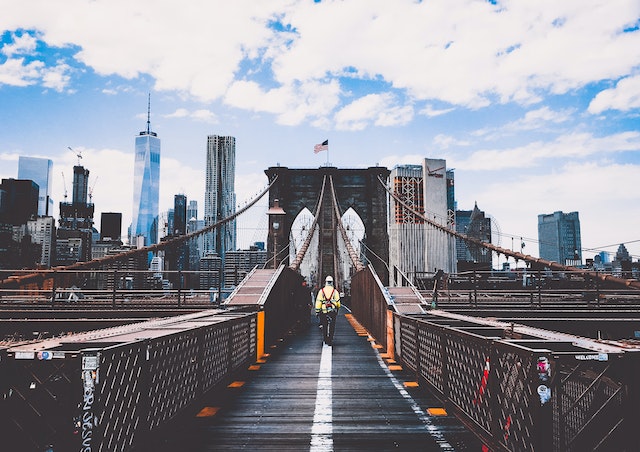 You'll be amazed to know that Ain Dubai's structure was built with 9,000 tons of steel, 25% more than the Eiffel Tower. If steel cables were laid end-to-end this would amount to about 2,400km of steel from Dubai to Cairo.
The Ain Dubai is not the only attraction on
Blue Waters

Island

Madame Tussauds opened its first branch in the Middle East on Blue Waters Island. It's one of the top attractions bringing with it a star-studded collection of 60 models of some of the world's most recognized faces. Madame Tussauds Dubai also includes an exclusive collection of 16 new wax figures in the Middle East.

Don't miss out on these attractions you can only find in megacities like Dubai and visit for memorable experiences that will last a lifetime.
Author Profile
Blogger and Educator by Passion | Contributor to many Business Blogs in the United Kingdom | Fascinated to Write Blogs in News & Education I have completed a journalism summer course at the London School of Journalism and manage various blogs.